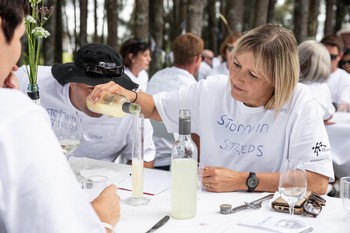 Annual Stomp! 2022
Saturday March 5th, 11.30am - 3.00pm.
Take a fun, educational look at the life of a Winemaker during Vintage.

Help us squish, measure, stomp and finish with a feast.

Your day includes:
* measuring grape ripeness
* sampling our 2022 juices & ferments
* blending & tasting
​* three course lunch with accompanying wines
* training in the art of pigeage or foot stomping ripe, juicy grapes
* creating your very own stomped T-shirt as your keepsake
* live music
After the hard work, in true winemaker style, we'll relax with an alfresco lunch prepared by Chef Matt Dillow from The Deck Cafe Lovedale, live tunes by Mark Henderson & a glass (or three) of wine.

Dress - enclosed flat shoes (you'll be outside), casual clothing (nothing too good, it will get dirty, particularly if you intend to practice your foot stomping), hat, sunscreen and bring an old towel to dry off your feet and legs after stomping.

NB: Attendees are to be 18years +
Product Reviews
Liam
(04/07/2021 at 10:48 PM)
If I could give it a 100 star review I would, had an awesome day couldn't ask for anything more. Started the day with a few beautiful wines and a few laughs followed by a few fun group activities and learned heaps about stomp and there wines had a blast, then lunch was amazing completed the wine perfectly after lunch my partner and I Danced to the live music and just had a brilliant time don't have many days like this a year so definitely will be coming back 2022 looking forward !!! Calendar is marked !