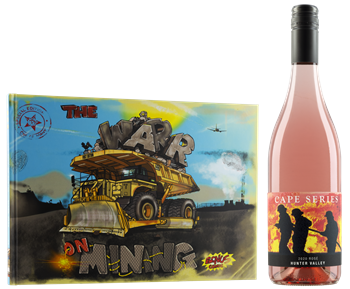 Rosé Six Pack + Book
Our Cape Series 2020 Rosé is dedicated to all volunteers who freely gave of themselves to help Australia survive it's most recent crippling bushfires and ongoing drought.
10% of all wine sales are donated to our local, Broke Rural Fire Brigade.
Just for fun, we've collaborated with the artist behind the label. With this pack you receive 6 Cape Series '20 Rosé + Glenn Warr's new book, The Warr on Mining. An illustrative, comedic insight into the mining industry. More details on book can be seen at thewarronmining.com
Valued at $200, delivered to your door for $185.
Wine Details:
Vineyard Location
Hunter Valley
Winemaking Details
The fruit for this wine was picked in February 2020, following a hot, dry growing season. After crushing, it was pressed and cold settled. It then underwent cool fermentation in stainless steel to keep it fresh.
Tasting Notes
This dry style Rosé, made from Merlot and the rather unusual Nero d'Alvola grapes, has luscious notes of blackcurrant and watermelon with a hint of spice on the soft, dry finish.
Serve chilled with Asian stir fries, fruit and cheese platters, or sunshine and another bottle!
Cellaring Potential
Drink Now