News
Keep up to date with the latest happenings at stomp!
Join our journey as we share the highs (and lows) of living the dream, passionately crafting the Hunter Valley wines you like to drink.
Outdoor wine tastings are perfect on a Winter's day. With fresh air, warming sunshine and beautiful scenery, they offer a relaxed experience for everyone, even the family pooch. Yes, we are dog friendly. We invite you and your four legged or two legged friends to pull up a table under the majestic gumtree, out in the sun, or on a stool at one of our wine barrels on the verandah, and we'll take you on a fabulous wine journey.
We've put together a few tips to help you make the most of an outdoor tasting at stomp! wines.
We'd highly recommend booking in advance, so we can have a table ready & waiting for you. If you don't get the chance we'll still welcome you with open arms & a glass.
In most instances you will be welcomed by Kimba, and her ball. She loves welcoming guests, playing ball and is often the star of the show.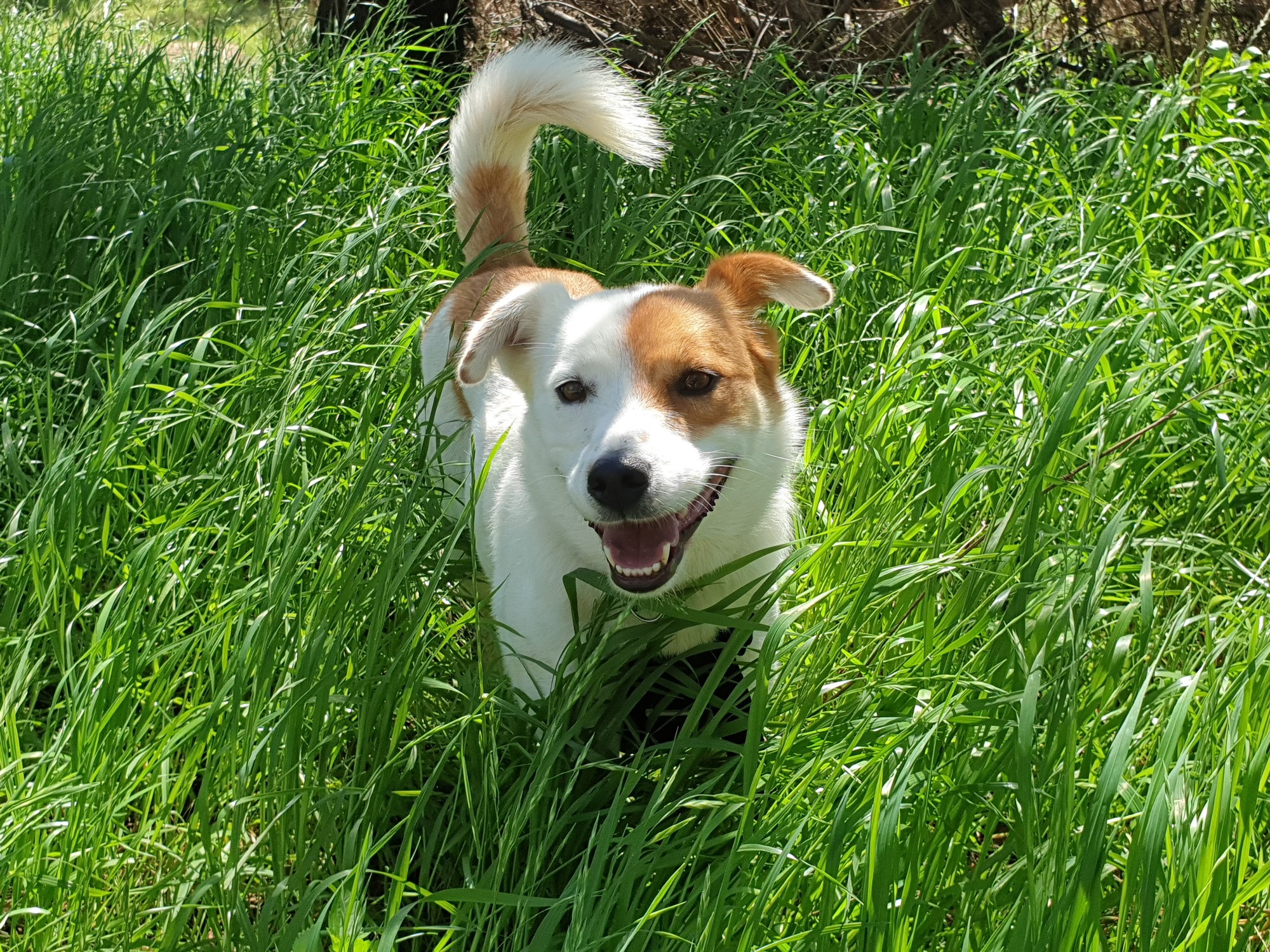 Our tasting experiences are customised to your taste and include up to six or ten wines. For a relaxed experience we recommend allowing roughly an hour. This allows time to fully soak in the ambiance that is Stomp Wines. Ask us for a blanket if it's a little chilly.
Creating your own cheese or sweet treats platter from the Gourmet pantry is a great way to enjoy local produce with our wines. Simply select the cheeses, olives, nuts, licorices and crackers you like & we'll plate them up for you to enjoy with your wines. We source from Binnorie Dairy, Belarna Grove, Design-a-candy, Spotty Dog Estate and more.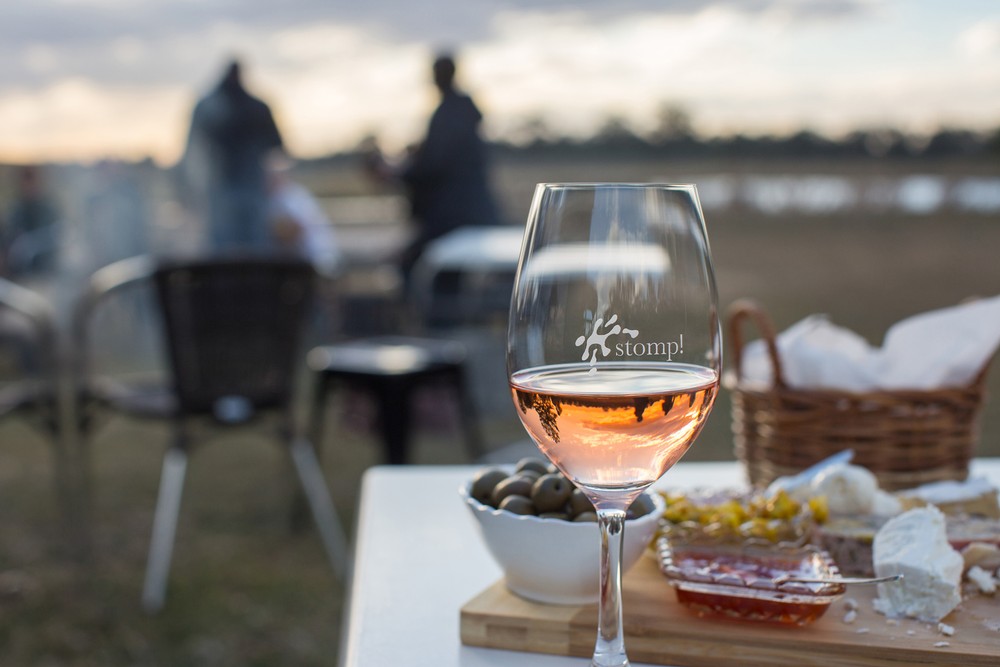 We've got a selection of Garden Games for you to enjoy some wholesome fun. Think giant jenga, noughts & crosses, quoits, boules (with a country paddock for the court)...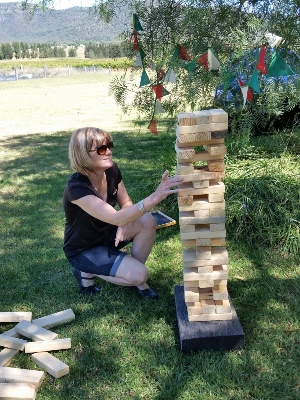 For the ultimate Winter tasting experience Michael & I invite you to join us for our annual Fireside Tasting. Being held Saturday 22nd July, it's the perfect excuse to rug up, sit around the wood fire and taste our latest wines. This year we have Sally Gough of neighbouring Binnorie Dairy joining us to introduce her cheeses and the Binnorie Dairy story. Evoking memories of childhood & camping expeditions we finish the evening toasting marshmallows over the coals. Tickets are limited. For full details and to book your tickets head to the website here.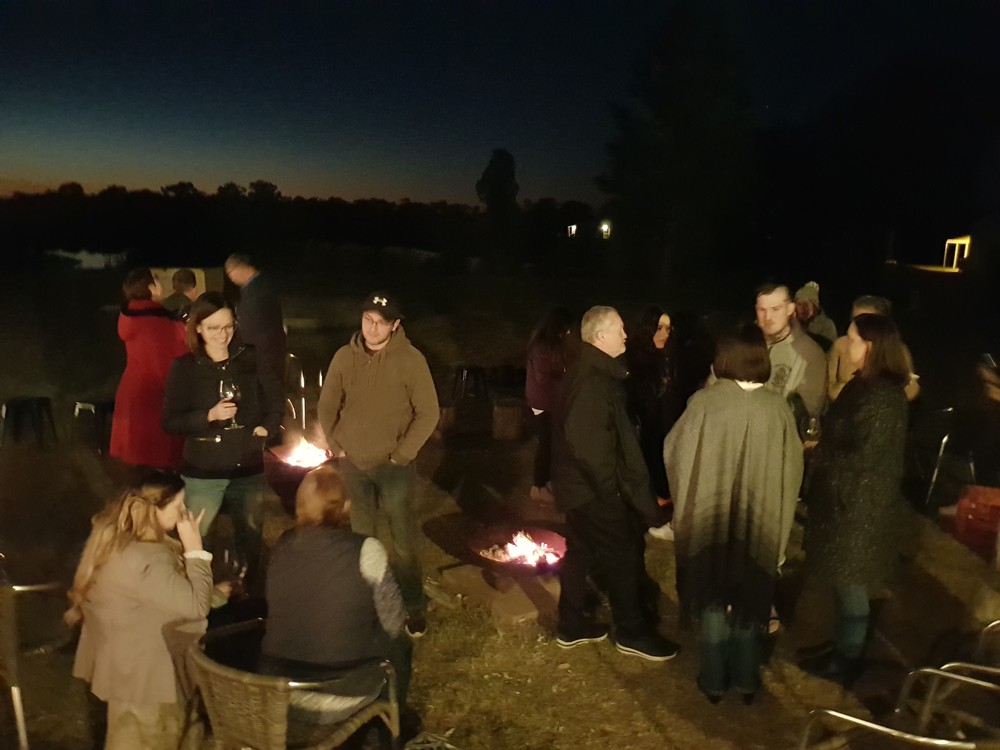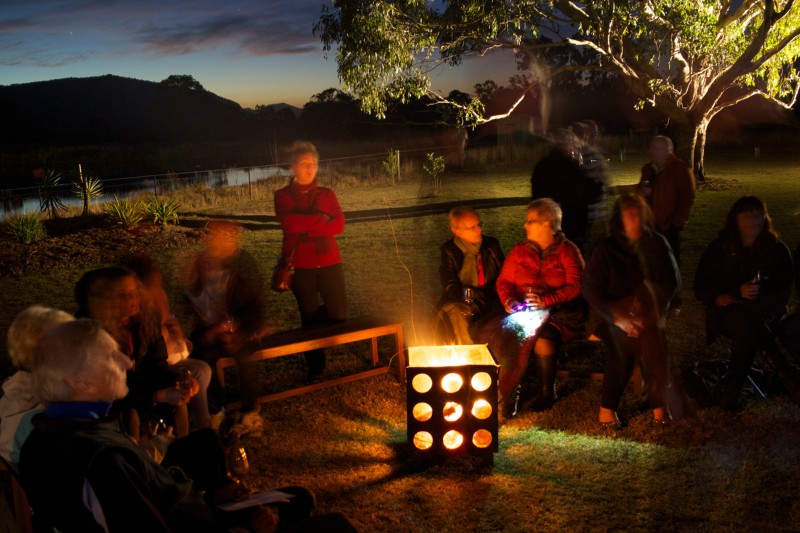 Our Fireside tasting is one of our favourite events. It's a great chance to rug up & get cosy by the fire whilst enjoying a few of our new release, & to be released wines with some great local produce.
The event runs from 4.30pm to 6pm, leaving plenty of time to:
finish your day with dinner
start with a leisurely long lunch
stay in the valley for the weekend
To help you make the most of this opportunity we thought we'd share a few suggestions for our favourite places to dine and stay:
DINING
The Deck Cafe
If you've been to our stomp! event you'll have experienced Chef Matt Dillow's delicious cuisine. Matt owns local Restaurant The Deck Cafe in Lovedale. The Cafe offers a "tappas" style menu, is uniquely situated on a deck overlooking the dam and young forest bushland. It is an experience to remember with local chefs and staff cooking and serving cafe favourites with a Hunter Valley fine-dining twist.
Jimmy Joans
One of the newer kids in the neighbourhood and located at the other end of Wilderness Rd, Lovedale is Jimmy Joans. The relaxing bar and restaurant menu offers a range of casual snacks, share style main courses and gastro pub classics paired with local wines and creative cocktails.
ACCOMODATION
There are so many options when it comes to accomodation in the valley. From large hotels with all the services, whistles and bells, to unique cottage accomodation tucked away in the trees. We'd highly recommend winecountry.com.au to give an overview of the range of options available.
Bluebush Estate
Located a little further along Wilderness Road & nearby to Jimmy Joans, Bluebush offers a range of different cottages & houses. Set amongst the vines they offer options for couples through to larger groups.
Tuckers Lane Boutique Accomodation
If you are looking for something unique, with five star inclusions, Tucker's Boutique Accomodation is the Hunter's only luxury shipping container accommodation, designed to pamper adults. Their one and two bedroom cabins will surround you in the sights and sounds of nature. It will be hard to decide whether to stay and immerse yourself in the setting, or to explore further afield.
Chateau Elan at The Vintage
Offering all the services you'd expect in a resort, including restaurants, pool, spa and luxury accomodation, and located across road from our Cellar Door (but too far to walk in the darkness of night), is Chateau Elan at The Vintage. Also located within The Vintage precinct is a range of amazing homes available for short stays through The Vintage Holiday Houses. If you you'd like a hit of golf the following day, these are two perfect options.
MAKING THE MOST OF THE EVENT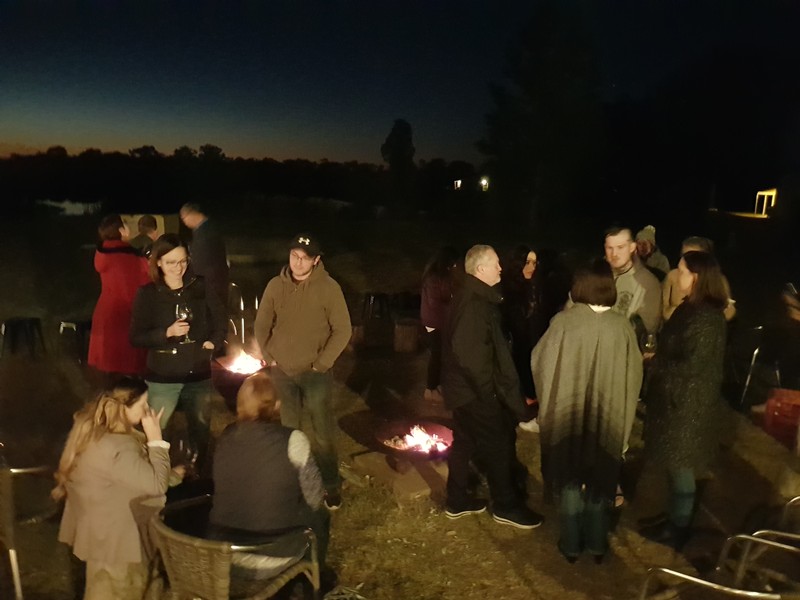 TIP 1. Our tasting will be outdoors, fireside, so rug up. Wear your scarves, beanies and winter woolies.
TIP 2. It will be a little smokey. It's hard to have open fires without a little smoke, especially when you are up close toasting marshmallows, so you will go home with a reminder of an evening by the fire.
TIP 3. This is great opportunity to stock your cellar and fridge with some wines and cheeses to recreate a Fireside Experience at home with family and friends.
TIP 4. Not already a stomp! wine club member? Join now & receive Member's event and wine pricing, and receive six bottles of wine of your chosing, delivered to your door three times per year.
TIP 5. Our experience from past events is that our guests use the Fireside Tasting as a great excuse to gather friends and visit the valley. To avoid disappointment and to make the most of your visit make sure you book your tickets, accomodation and restaurants well in advance.
We can't wait to see you in July. Book your tickets here.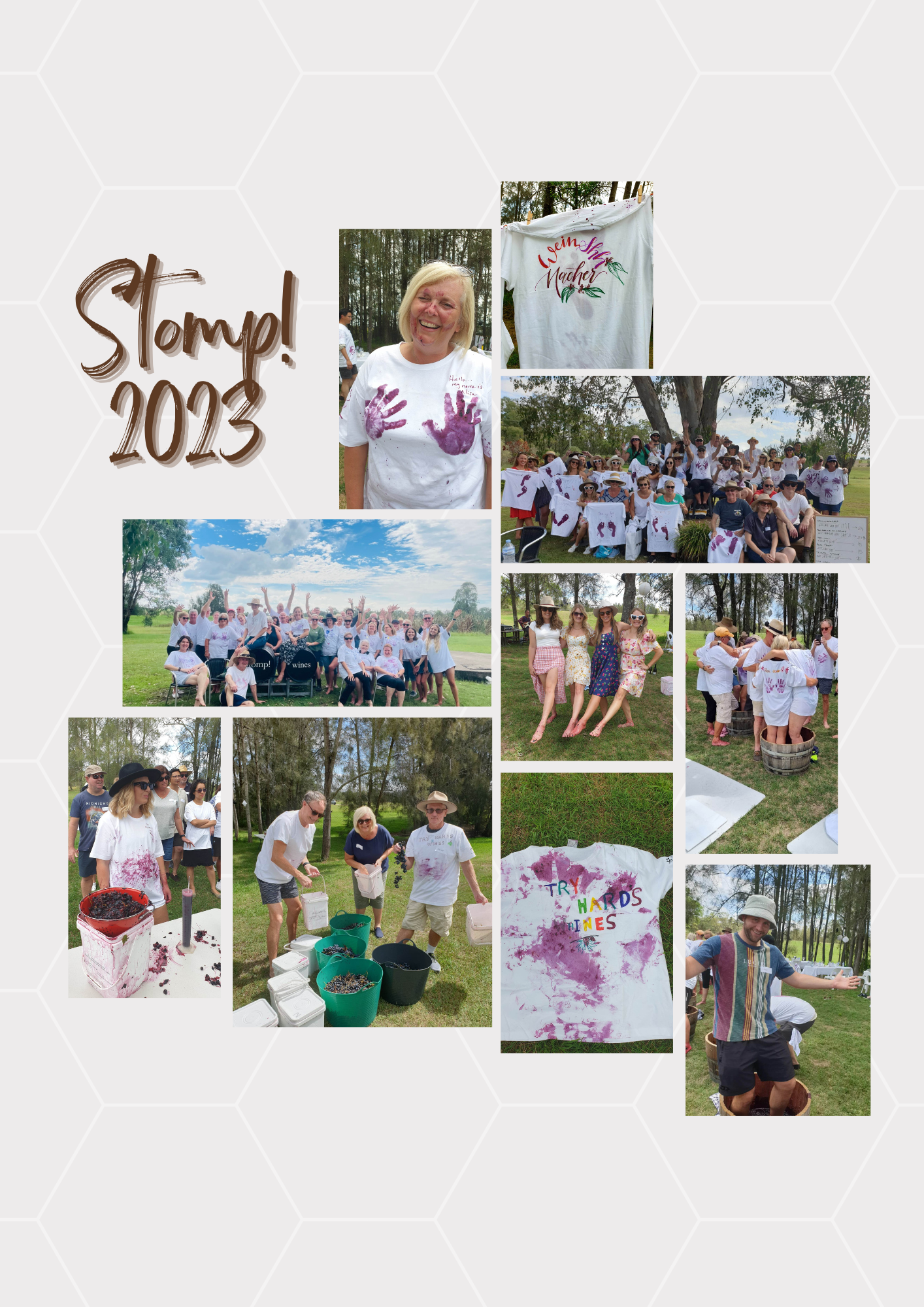 Our Stomp! 2023 was a day of fun as our winemaking apprentices squished, blended, stomped, sang, dined and, of course, wined their way through the day.
The 2023 vintage was hailed a success by our winemaking teams as they blended a red ready to spend some time in barrel.
With healthy competition from the teams throughout the day, "You had me at Merlot" won our best Winemaking Apprentices of the day, with Savvy Brazels not far behind.
To nourish the workers throughout the day they were catered to by Chef Matt Dillow & his team from The Deck Cafe. We enjoyed pairings of Salmon Bruschetta with our 2021 Semillon & 2022 Fiano, and Crackled Pork with Peach & Raisin Relish served with our guests choice of Chardonnay, Rose, Merlot or Shiraz. Oh yeah, and dessert to die for - Rhubarb Frangipani Tart with Sotally Tober.
A fun introduction to the day (and something that will be highly encouraged in future years) was handing the microphone to the teams so they could describe their blend, the marketing and thinking behind their wine (encouraging us to point them the highest scoring for their wine); recite a witty poem or to sing a ditty in hope of being awarded additional points.
Michael and I love meeting new apprentices, welcoming back past guests and joining in the fun and diversity that each year brings to stomp!
Our 2024 event is locked in for Saturday 9th March. With limited tickets available, we highly recommend gathering your friends and booking a table now.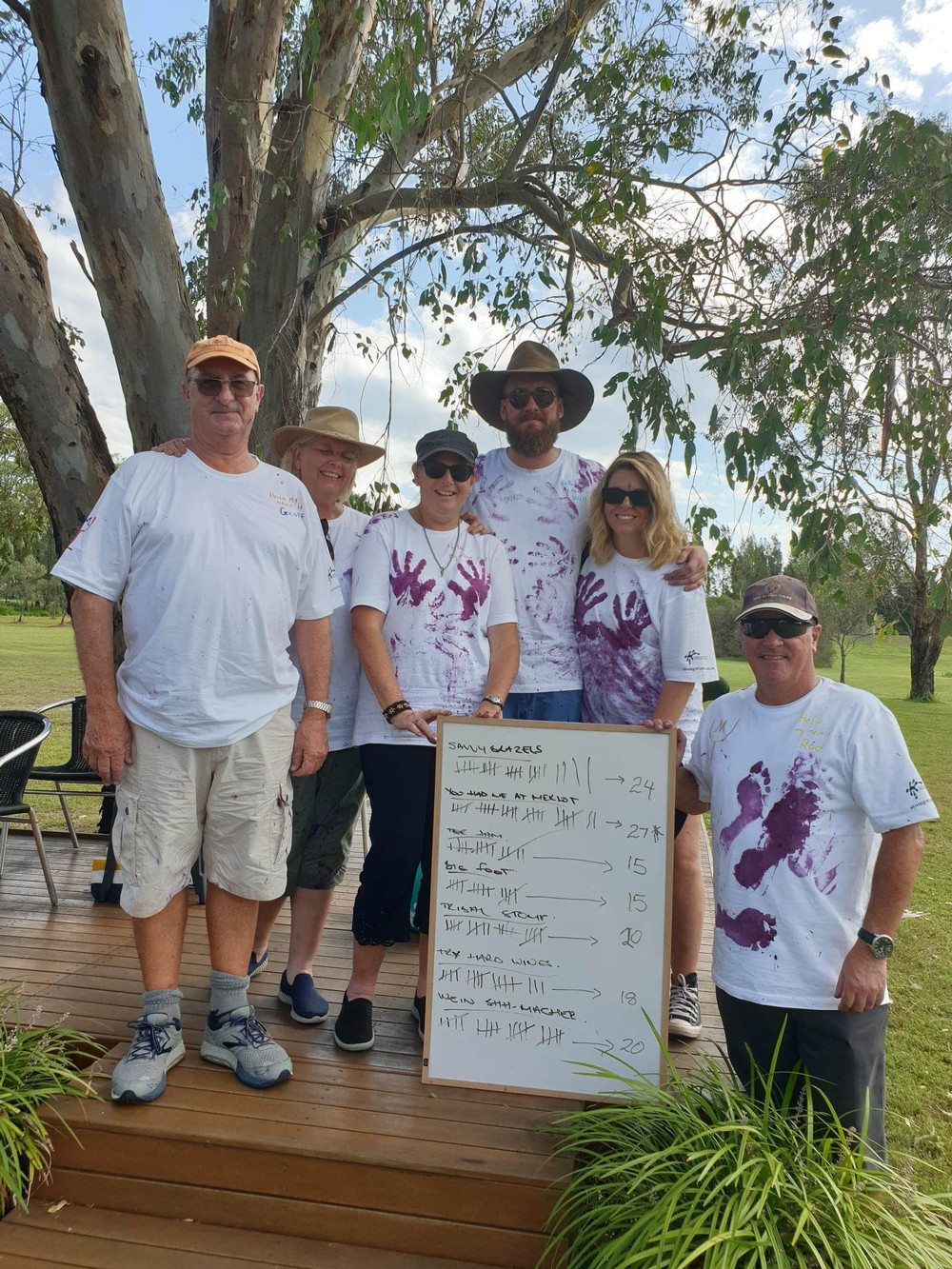 See you in 2024 for more stomping good times.