News
Keep up to date with the latest happenings at stomp!
Join our journey as we share the highs (and lows) of living the dream, passionately crafting the Hunter Valley wines you like to drink.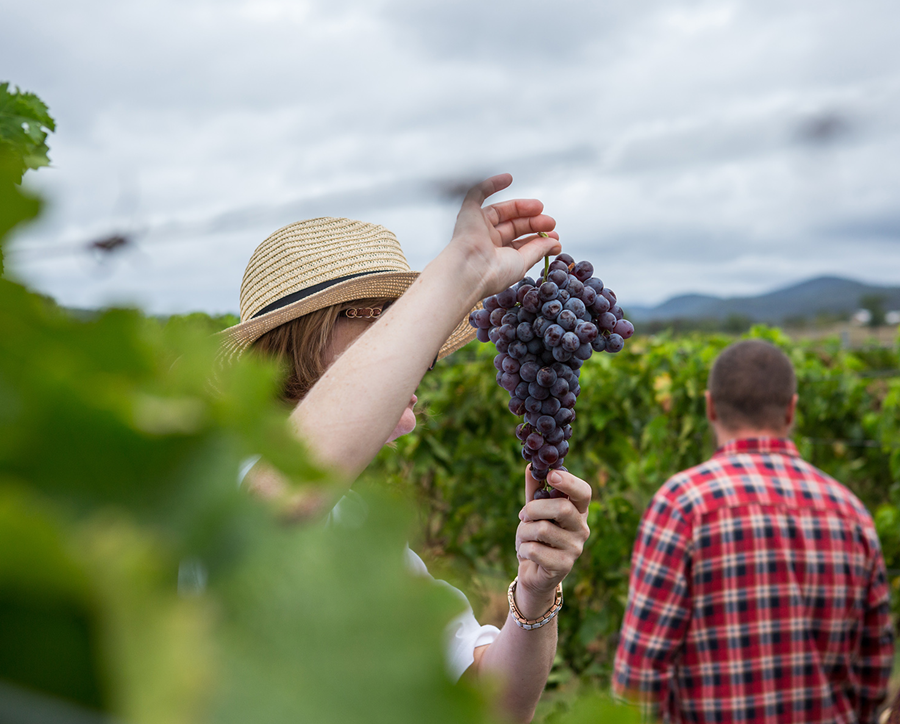 Now I don't know about you, but I'm not one to sit and watch too much television. With only Free to Air in our house the shows are very brain numbing.
So, if you don't relax with the television how do you relax? Much to my children's amusement I'm learning to crochet. Unlike the television, crochet allows me to relax whilst still keeping my brain functioning. All sorts of activities can continue in your brain whilst your hands are active. For example, something made me go through the alphabet recently wondering if I could name a grape variety for every letter of the alphabet. Try. It's not easy. Let me know how far you get.
I have to admit, to completely get through the alphabet, or very almost, I did have to consult some help. I still haven't found one beginning with Y. Feel free to help me out.
Here's my list, with some extra information, just to keep those brain cells alive:
Arneis – A white grape variety originally from Italy producing floral scented, full bodied, white wines. Catherine Vale Wines in Broke produce this wine. Try it!
Barbera – A dark skinned, red grape variety originally from Italy producing well rounded plummy, cherry like red wines. With quite a few in the Hunter Valley, pick some up on your next visit.
Chardonnay – One of the world's most famous and most widely planted white varieties. Chardonnays can differ greatly depending on the winemaker's style, however, the variety itself is responsible for lovely fruity notes ranging from tropical (banana, melon, pineapple & guava) to stone fruits (peach, nectarine and apricot), citrus and apples, similar to what you find in our Stomp '18 Chardonnay.
Dolcetto – A red Italian variety originally from Italy producing soft styled fruity wines. Also grown by Catherine Vale Wines, Broke.
Enantio – A red grape variety originally from Italy producing red wines with distinctively fruity flavours of raspberries, red cherry and often with a hint of spiciness.
Fiano – A white grape variety originally from Italy, Fiano is often used both in blends and as a varietal wine. It adds body weight and roundness to blends and imparts floral, honey and spicy notes on its own. Try our Stomp 2018 Fiano. Its great with seafood, cheeses, pasta.
Gerwurztraminer – A pink skinned variety originally from France, Gerwurztraminer is recognised by its intense lychee, rose petal and Turkish delight aromas. The palate can be marked by its full texture low acidity and spicy stone fruit characters. Try The Little Wine Company Gerwurtz – always a favourite of ours.
Humagne Rouge – A red variety, originally from Switzerland, producing rustic, earthy, savoury style red wines. The most recognisable fruit flavour in this wine is dark cherries, often with a hint of spice.
Isabella – An American Hybrid with dark purple skins producing light bodied wines with predominant strawberry flavours.
Jampal – A white variety from Southern Portugal producing wines with predominant citrus characters and tropical fruit undertones.
Katsano – An extremely rare white variety grown in Greece and producing wine with sweet lemon blossom and honey aromas.
Lambrusco – A brightly coloured red grape from Italy used to make sparkling red wines. Lambrusco is more accurately seen as a collective term for over 60 distinct Lambrusco varieties.
Merlot – A red variety originally from France, known more for its ability to impart certain textures rather than flavours to a wine. Merlots are often described as smooth, rounded and easy drinking. Nothing beats our Pssst 'n' Broke '17 Merlot for easy drinking.
Nero d'Alvola – A red grape originally from Sicily, however, there are now over 55 vineyards in Australia. It's particularly suited to dry, arid growing conditions, making it very relevant as our industry adapts to climate change. Our Cape Series '20 Rose is made of a blend of this and Merlot.
Ortega – A white grape originally from Italy, similar to Muscat with its overt floral scents.
Petit Verdot – Translates to 'little green one' in its French home because it can struggle to ripen. However, that makes it perfect for Australia's warmer wine regions. Whilst once considered a blending grape many Australian wineries are beginning to champion it in its own right. Try Gartelmann's. They are not far from our cellar door.
Quagliano – An Italian red variety often used in low alcohol still and sparkling wines.
Roussanne – A white variety, originally from France, and often displaying aromas of herbal tea florals and poached pears, with beautiful texture and complexity. I think Tahbilk's was the first I ever tasted. Locally, try Meerea Park's.
Sangiovese – A red Italian varietal which can be found in styles ranging from light and crunchy to dark bold and tannic. There a quite a few from the Hunter Valley you can try. David Hooke's is very good.
Tempranillo – A Spanish red variety responsible for many medium bodied, food friendly wines. Again, there are quite a few you can try in the Hunter Valley.
Uva di Troia – A low yielding, Italian, red grape used on it's own or blended.
Verdelho – A white Portugese grape, well known in Australia for producing extremely drinkable wines with fresh tropical fruit characters. Perfect with spicy Asian cuisine or kicking back by the pool. Our Stomp Verdelho has classic flavours whilst, for something different, try our Sparkling Verdelho.
Wurzer – A little known white German grape variety that is a cross of Gerwurtztraminer and Muller-Thurgau.
Xnisteri – A white grape variety from Cypress.
Y – ???? I need your help here. Anyone got any suggestions?
Zinfandel – A dark skinned red grape with controversy as to it's origins as it's the same as the ancient Italian variety Primitivo.
I'm sure you can come up with plenty more. Let me know how you go and have fun trying the wines from all these grapes.