News
Keep up to date with the latest happenings at stomp!
Join our journey as we share the highs (and lows) of living the dream, passionately crafting the Hunter Valley wines you like to drink.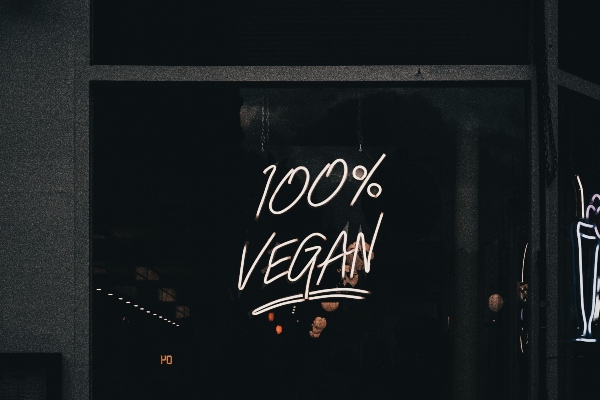 Over the last couple of years, we've experienced more demand for Vegan Friendly wines. To date we've not had any to offer, as throughout the winemaking process we use fining agents derived from animal products. But we have been listening and working on a solution. Michael's been busy in the winery trialling non animal based alternatives – one's which don't compromise the quality or flavour of the wines you love. The good news is, we've finally found one, derived from the humble pea and potato! Drum roll… we now have some Vegan Friendly wines:
Stomp! Limited Release 2021Sauvignon Blanc
Stomp! Limited Release 2021 Fiano
Stomp! 2021 Chardonnay
Pssst 'n' Broke Sotally Tober
Why do we fine our wines, anyway?
Fining is basically like filtering a wine. Without this process our wines would be cloudy and contain floating particles (proteins, tartrates, tannins and phenolics). These can be detrimental to the flavour, texture or colour of our wines.
Traditionally the industry has used fining agents derived from animals. The most effective we've found are egg whites and skim milk. Although for a while there has been ways to fine our wine without animal products, Michael has not been happy with the compromise it's made to the flavour of our wines. Now completely happy we're not compromising our quality we're very pleased to be able to satisfy our Vegan fans!
Missing the interaction, education and fun of a wine tasting experience in our cellar door? Looking for a way to celebrate a special occasion whilst still remaining at home? Order one of our Zoom Tasting Experiences and we'll come to you, live. Stay home and we'll deliver wines to your door and have a fun, informative, hands-on tasting experience.
Experiences will take place via Zoom, Saturday evenings 7pm - 8pm, with half hour extra question time if needed. You will be hosted by one of our expert team who'll share knowledge of all wines received - discussing the varietal, its history, production methods, and best bit, how to taste like a pro and get the most out of drinking our gorgeous wines - temperature to serve and foods to serve with.
Joining us is as easy as one, two, three:
1. Choose your experience according to your wine taste:
Bubbles & Sweet Wine
​Classic Dry Wine
Halliday 95 Point Shiraz
2. Book your pack online:
Remember to leave plenty of time for our extremely busy couriers to get to you. We suggest approximately 10 days to ensure delivery.
3. Join us via Zoom.
Simples! What are you waiting for? Join us for your next online celebration or boredom buster!
We can't wait for our annual Stomp! It never seems to come around quick enough...
We've put together a picture of the day to show you why.
Thank you to everyone that joined us, participated with such enthusiasm and yet again made the day so much fun.
We hosted members, visitors and friends...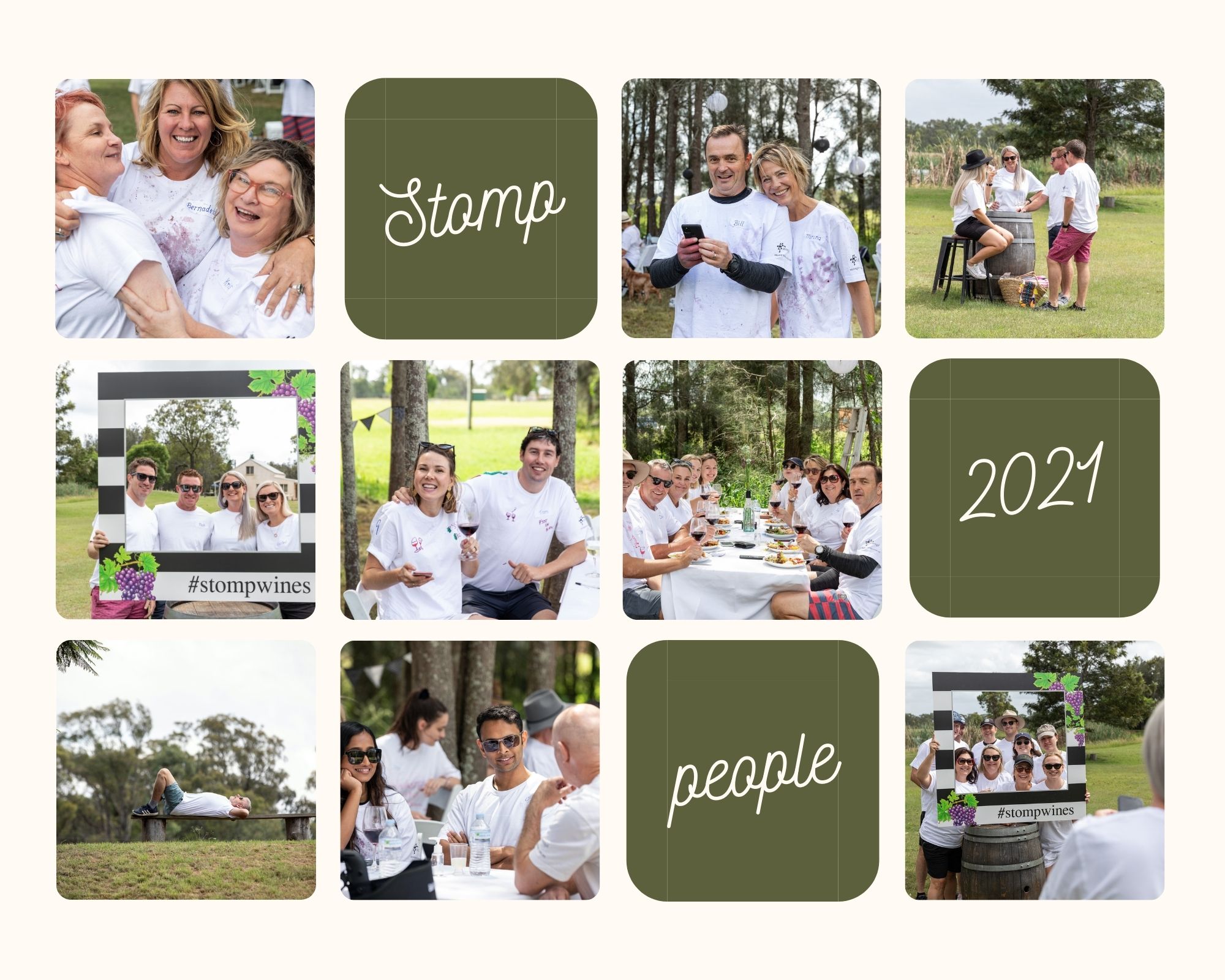 The competition was fierce, with The Grape Escape being the winning team of the day ...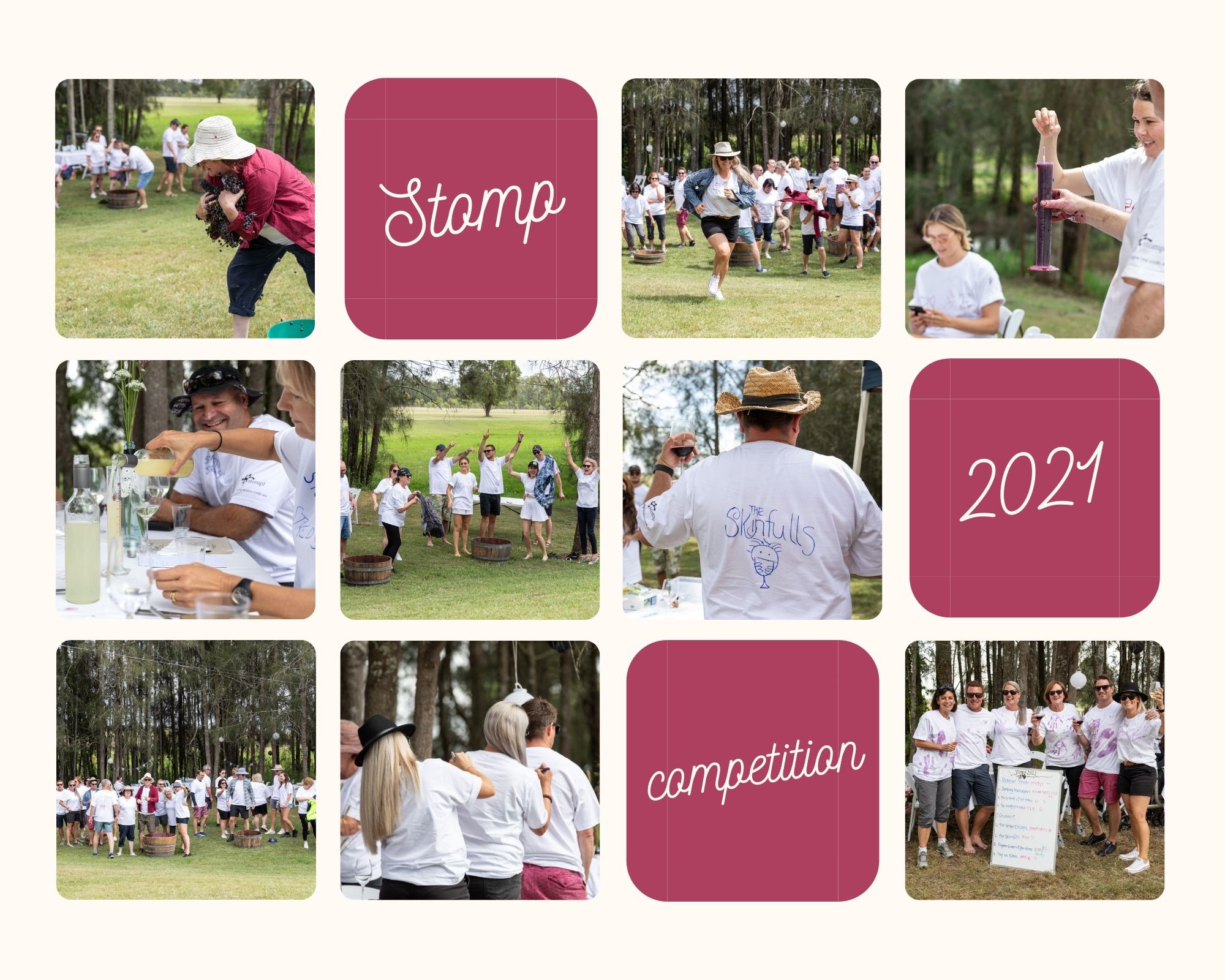 The food and wine were amazing - even if we do say so ourselves. Thank you to chef, Matt Dillow & his team at The Deck Cafe...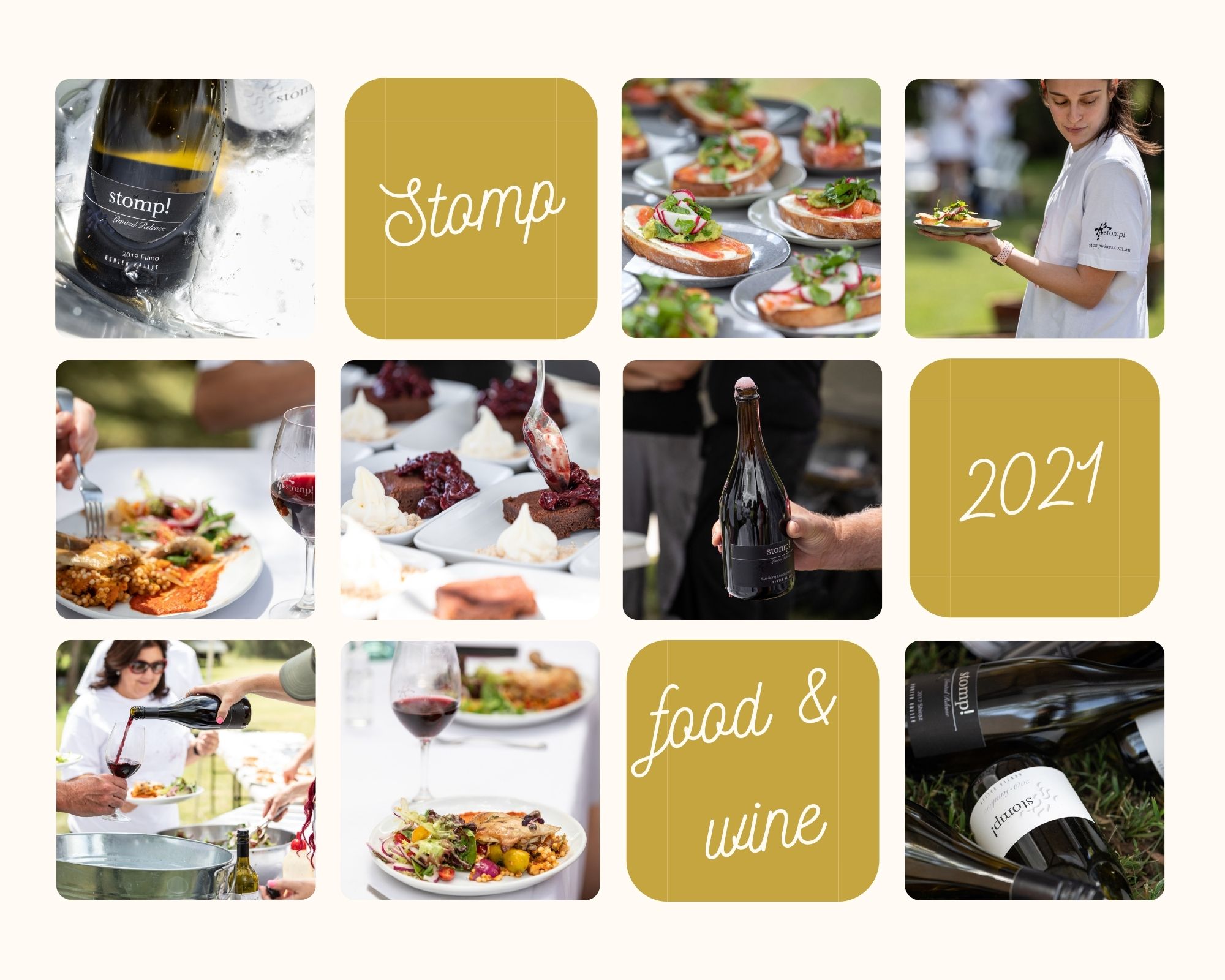 The stomping was undertaken with great vigour and loads of laughs....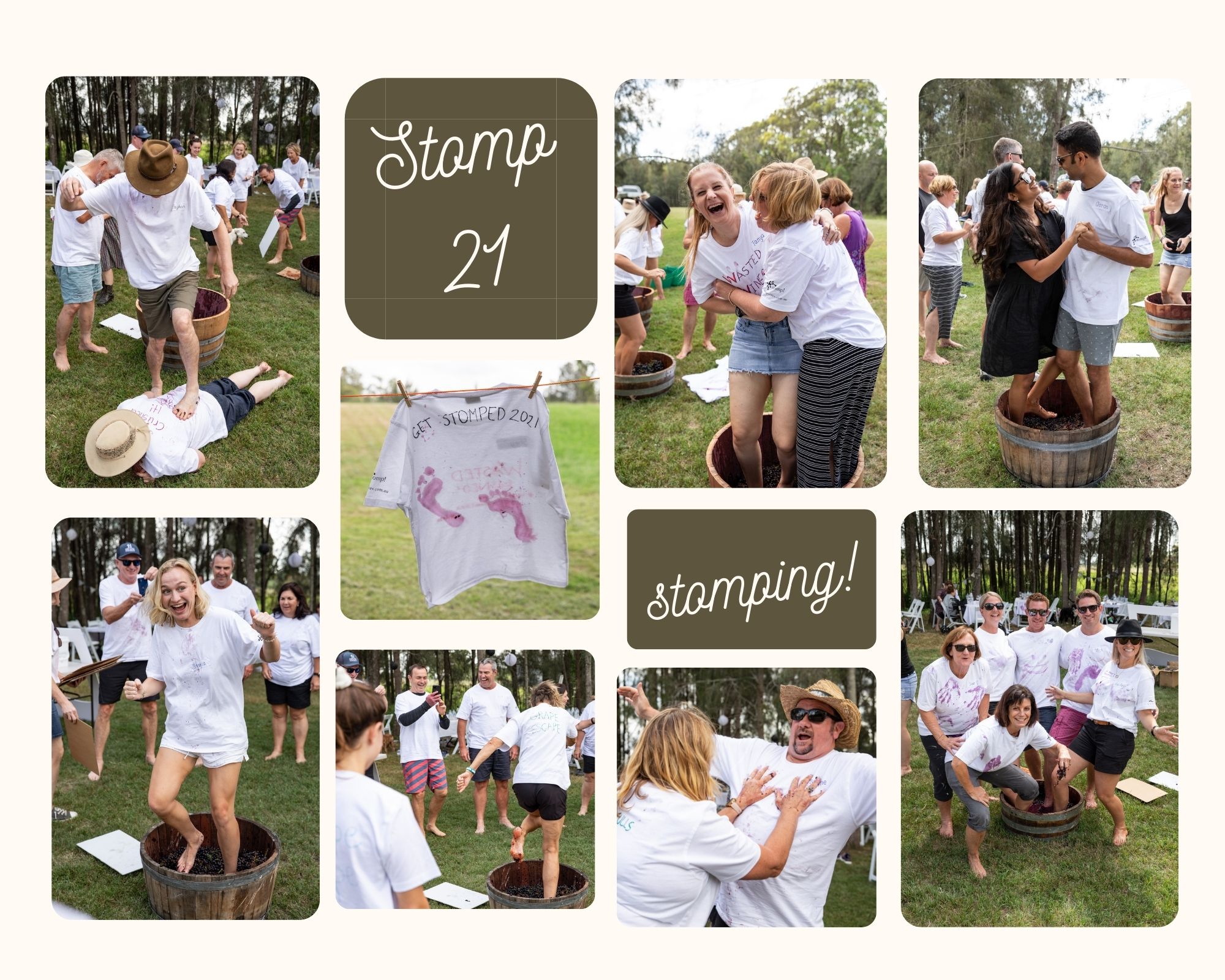 From Michael, Alyssa & I - thank you for joining us in 2021. We hope to see you on 5th March 2022.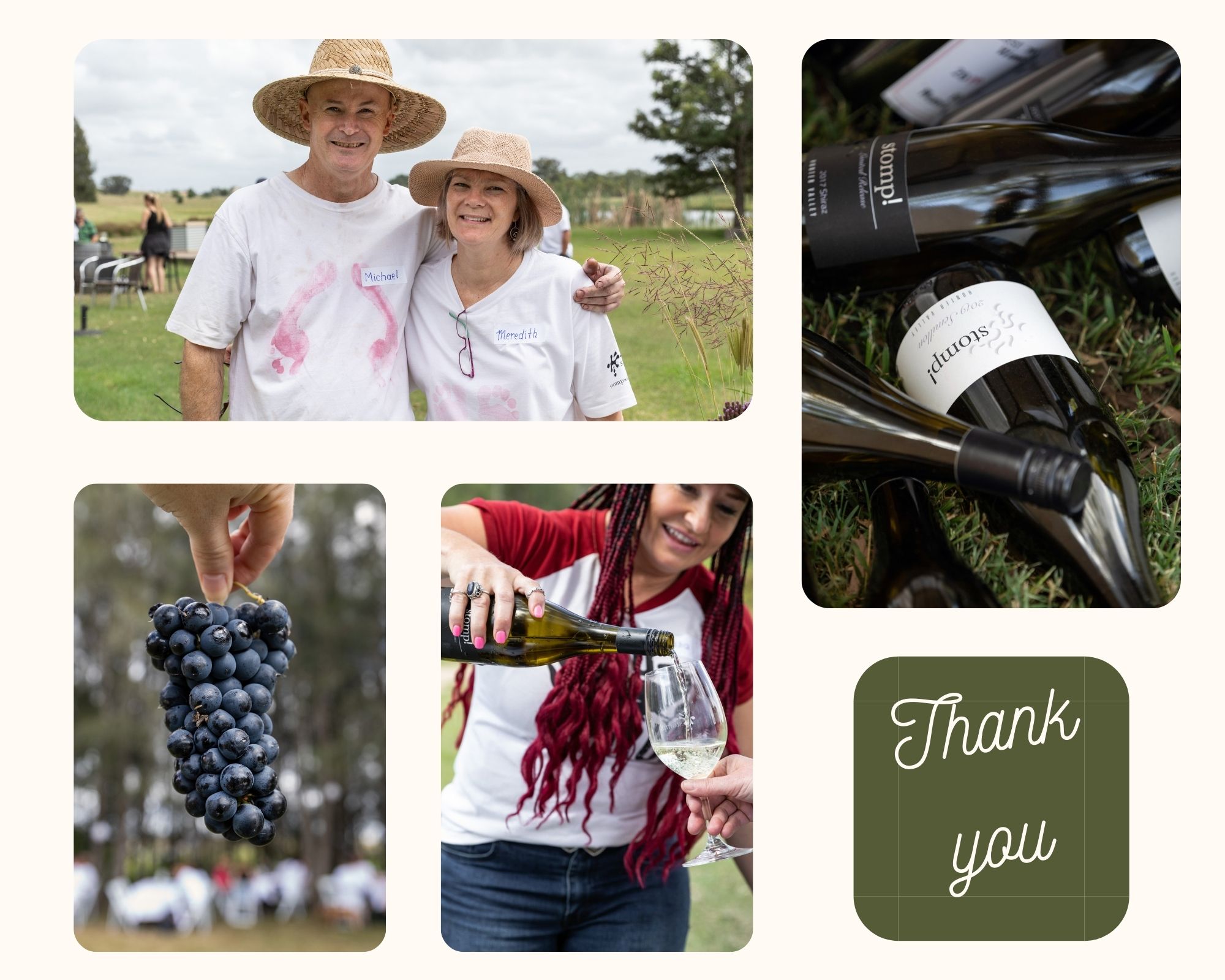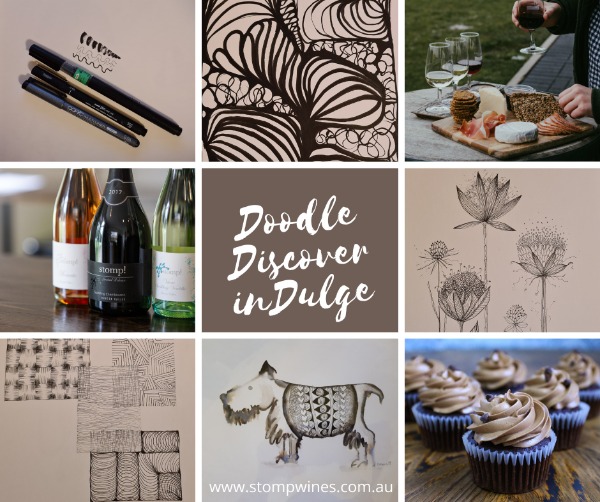 We're thrilled to be collaborating with local artist, Rowena Henderson, to bring you an afternoon of mindful doodling and an in depth wine tasting, whilst feasting on local produce.

Join us as we:
DOODLE the day away with mindful pattern making and designs, creating your own mindful masterpiece
DISCOVER your favourite stomp! wine
inDULGE in locally crafted cheeses & the most DIVINE cupcakes
Participants will learn how to relax with the rhythm and flow of doodling and pattern making, creating an artwork to take home.
No experience needed, bring an open mind, the desire to relax, enjoy, learn & have fun.
DETAILS:
Saturday 29th May
1pm - 4pm
$120pp inclusive of art session, guided wine tasting, locally produced Binnorie cheese platter and divine cupcakes from The Valley Cake Company. You'll even take home your own framed doodle art & a few tools of the trade to keep you doodlin' at home.
Numbers are capped at 8!
A Stomp Wine and Rowena Henderson Art collaboration.
Bookings essential, numbers VERY limited.
Participants must be 18years+


Perfect Partners
Stomp Semillon and...
Prawn Linguine
500g green prawns
Linguine or spaghetti
Rocket – 1 handful
Butter – 50g
Parmesan – block, shaved
1 lemon
Garlic – 2 tablespoons minced
Chilli or Stomp Chilli Jam – 1 tsp or to taste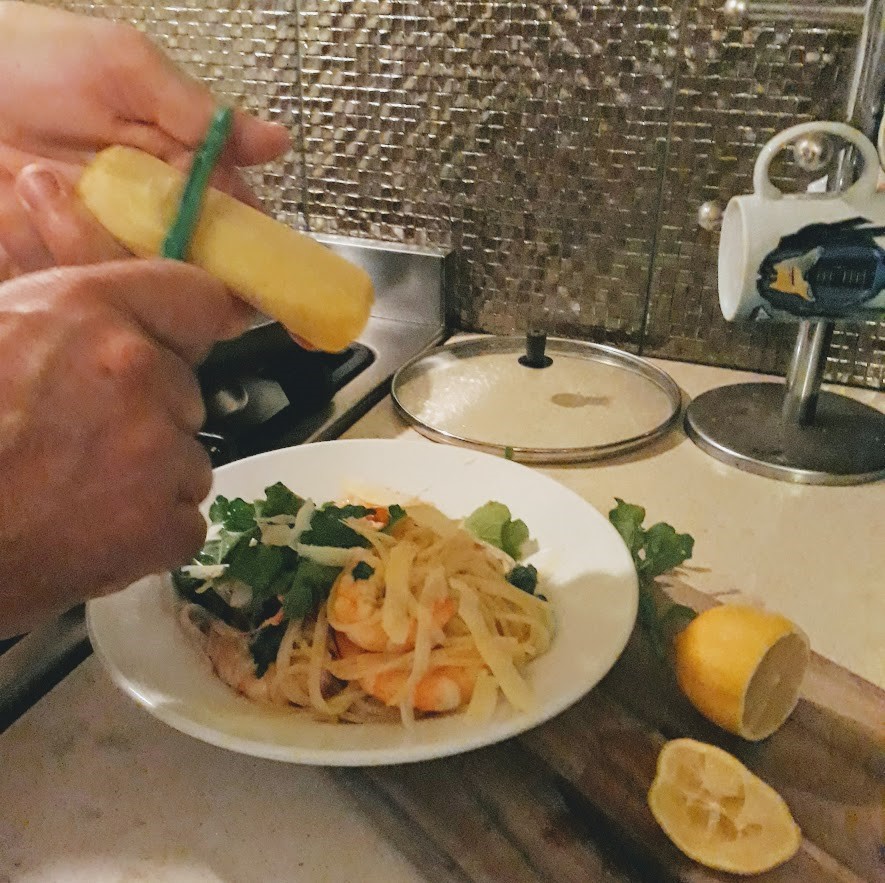 Method:
Cook the pasta in salty water to your taste.
Peel the prawns. Leave the tails on.
Heat butter in the pan. Add garlic and chilli until sizzling. Squeeze over half the lemon juice. Add prawns and cook on high heat, tossing frequently.
Tear rocket and stir through cooked pasta until wilted.
Add prawns and pan juices.
Shave over parmesan.
Squeeze the other half of lemon over your dish, garnish with some herbs or edible flowers from your garden and serve with Stomp Semillon. Perfection!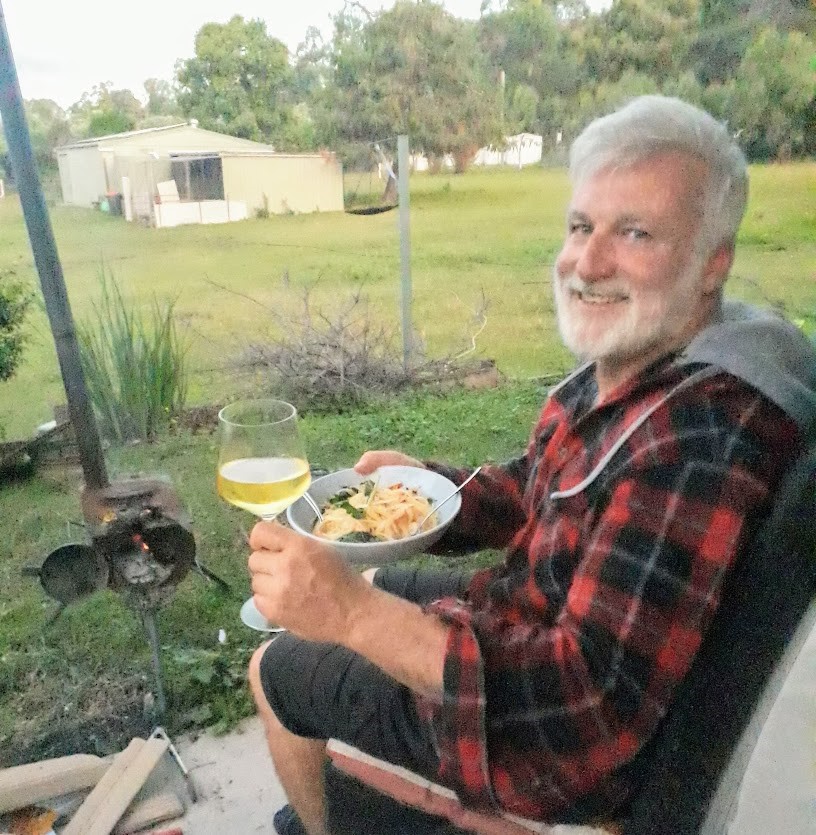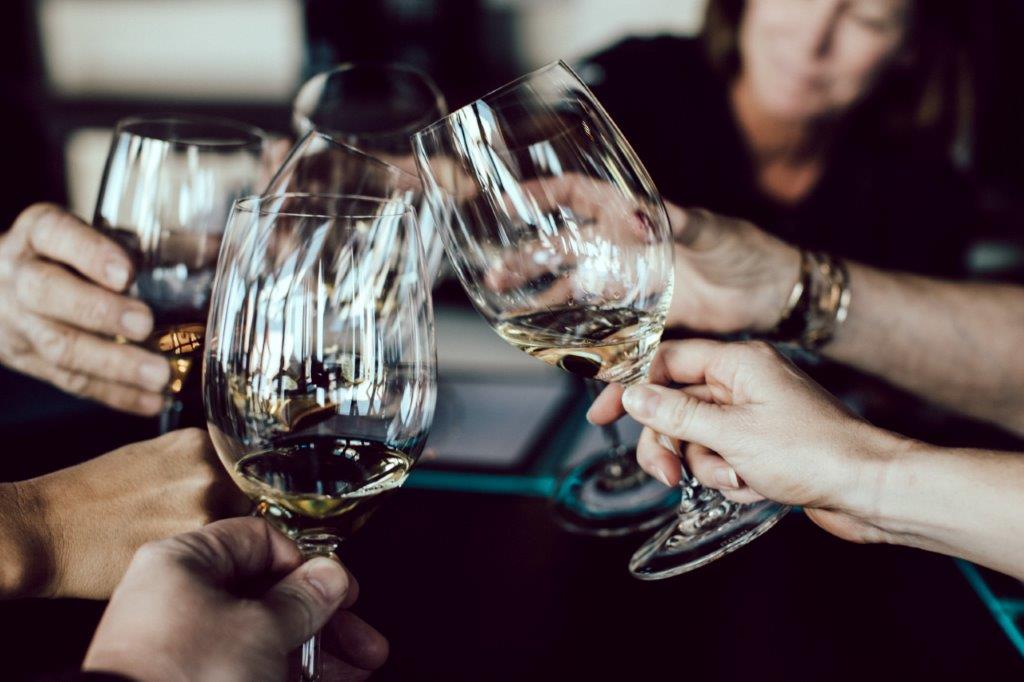 Have you ever heard of anyone finding clear glass like crystals in the bottom of their wine glass or bottle? Perhaps you've even found them yourself?
Don't panic, you've not found glass, you've found tartrate crystals or what winemakers sometimes term 'wine diamonds'.
Let me explain... Both tartaric acid and potassium are naturally found in grapes. During the winemaking process they bind to form a compound called potassium bitartrate. This is the same as cream of tartar used in your cooking at home.
Potassium bitartrate can become unstable at cold temperatures and can sometimes form clear, glass like crystals in wine. These crystals or 'wine diamonds' are perfectly harmless and if ingested will cause no ill effect, possibly only a slight grittiness on the tongue.
Although harmless, many winemakers, including ourselves, cold stabilise their wines. This process drops the temperature of the wine close to freezing for 3-4 days causing the crystals to separate from the wine and stick to the sides of the tank. We then drain the wine from the tank, leaving the tartrate crystals behind and hopefully preventing tartrate dropout. The process is not 100% foolproof and sometimes tartrates are left behind and can crystallise in the bottle at cold temperatures.
Tartrate crystals are more likely to be seen in white wines as opposed to reds because we generally don't chill reds.
So, if you ever find crystals in the bottom of your glass of wine, smile to yourself and count yourself lucky - you've found diamonds!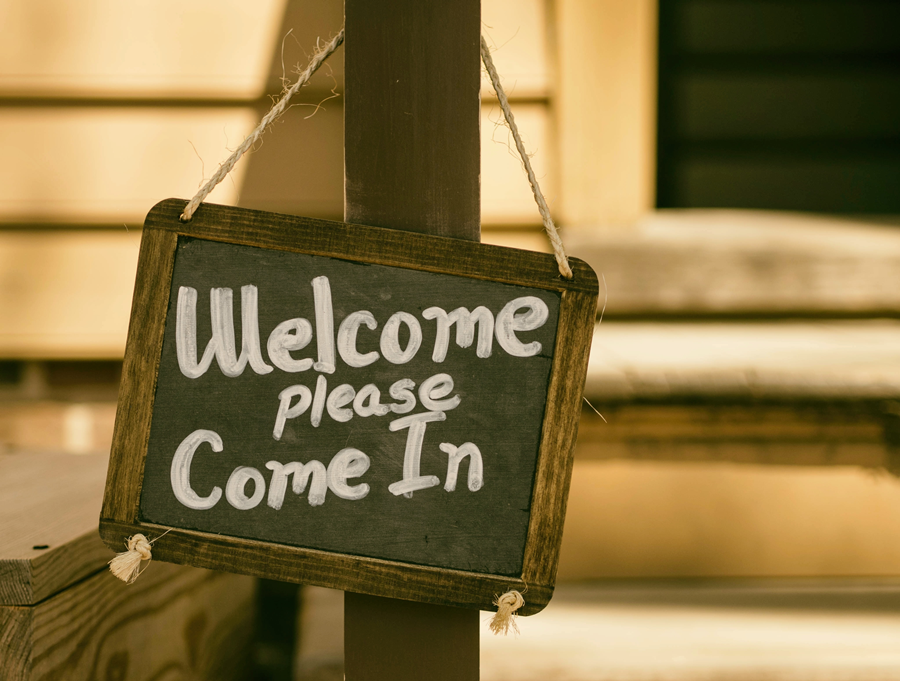 A visit to our cellar door is normally a very relaxed experience with very few rules. However, due to our new reality of living with Covid 19, we are now required to abide by very strict operating guidelines.
To ensure the health and safety of our staff, visitors and wider community we ask you to agree to the following conditions of entry to our cellar door:
Wherever possible make a booking to visit. Upon booking we will ask for names, phone numbers and emails of every person in group.
We encourage all visitors to download the Australian Government's CovidSafe App before visiting.
Any patron who is unwell or displaying signs of cold/flu/Covid 19, or lives with someone displaying these symptoms, is requested to remain at home and ring and cancel their booking.
Be punctual. Due to strict capacity regulations late comers cannot be guaranteed a tasting. If running late please phone to advise – 0409 774 280.
Use hand sanitizer provided when entering and exiting building.
All patrons are asked to follow 1.5m social distancing and maximum capacity numbers of 4 visitors upstairs and 6 downstairs (excluding staff). Beyond these numbers seating is provided outdoors.
All tastings will be seated and we encourage you to bring your own pen to fill in order forms.
Contactless payments can be made by tapping card.
We have undertaken Covid 19 Hospitality Best Practice Training provided by the Restaurant & Catering Association and we are following stringent cleaning/sanitizing practices.
All that said, we hope you can enjoy your visit to our cellar door and feel safe in doing so. We are very excited to be welcoming you back!
It's with great excitement we introduce you to our one and only wine from Vintage 2020!
Why only one wine? Vintage 2020 was tough. Only two parcels of grapes survived the bush fires in our region - Merlot and Nero d'Avola. Although this was a hard loss to bear, we were incredibly grateful. Without the dedication and vigilance of our Rural Fire Service things could have been much worse.

To honour the men and woman who gave so much to protect our community we decided our one 2020 wine should be bottled under a new brand - Cape Series - alluding to the fact that not all super heroes wear capes!
10% of all sales are being donated directly to the Broke Rural Fire Service
It's our intention to continue this brand and keep donating money to those in Australia who need it most.

In true country community style our new label artwork is by neighbour and artist Glenn Warr.

To keep things interesting you can order a six pack of Rosé with a copy of his new book - The Warr on Mining - an illustrative comedic insight into the mining industry.

There's never been a better, more guilt free purchase than this. Buy beautiful Rosé and support your favourite winemaker and legendary firies at the same time!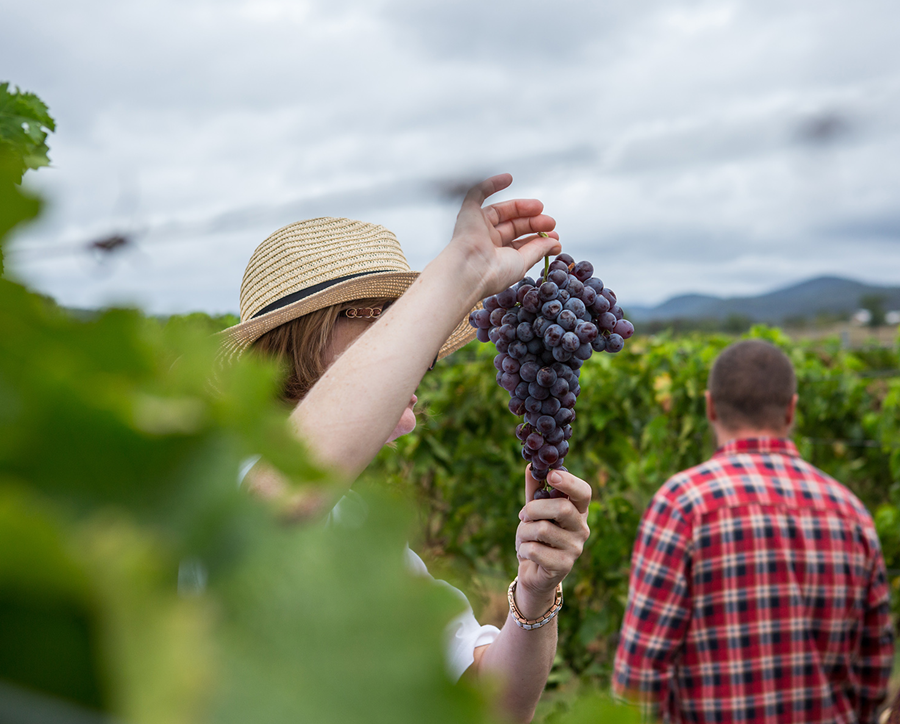 Now I don't know about you, but I'm not one to sit and watch too much television. With only Free to Air in our house the shows are very brain numbing.
So, if you don't relax with the television how do you relax? Much to my children's amusement I'm learning to crochet. Unlike the television, crochet allows me to relax whilst still keeping my brain functioning. All sorts of activities can continue in your brain whilst your hands are active. For example, something made me go through the alphabet recently wondering if I could name a grape variety for every letter of the alphabet. Try. It's not easy. Let me know how far you get.
I have to admit, to completely get through the alphabet, or very almost, I did have to consult some help. I still haven't found one beginning with Y. Feel free to help me out.
Here's my list, with some extra information, just to keep those brain cells alive:
Arneis – A white grape variety originally from Italy producing floral scented, full bodied, white wines. Catherine Vale Wines in Broke produce this wine. Try it!
Barbera – A dark skinned, red grape variety originally from Italy producing well rounded plummy, cherry like red wines. With quite a few in the Hunter Valley, pick some up on your next visit.
Chardonnay – One of the world's most famous and most widely planted white varieties. Chardonnays can differ greatly depending on the winemaker's style, however, the variety itself is responsible for lovely fruity notes ranging from tropical (banana, melon, pineapple & guava) to stone fruits (peach, nectarine and apricot), citrus and apples, similar to what you find in our Stomp '18 Chardonnay.
Dolcetto – A red Italian variety originally from Italy producing soft styled fruity wines. Also grown by Catherine Vale Wines, Broke.
Enantio – A red grape variety originally from Italy producing red wines with distinctively fruity flavours of raspberries, red cherry and often with a hint of spiciness.
Fiano – A white grape variety originally from Italy, Fiano is often used both in blends and as a varietal wine. It adds body weight and roundness to blends and imparts floral, honey and spicy notes on its own. Try our Stomp 2018 Fiano. Its great with seafood, cheeses, pasta.
Gerwurztraminer – A pink skinned variety originally from France, Gerwurztraminer is recognised by its intense lychee, rose petal and Turkish delight aromas. The palate can be marked by its full texture low acidity and spicy stone fruit characters. Try The Little Wine Company Gerwurtz – always a favourite of ours.
Humagne Rouge – A red variety, originally from Switzerland, producing rustic, earthy, savoury style red wines. The most recognisable fruit flavour in this wine is dark cherries, often with a hint of spice.
Isabella – An American Hybrid with dark purple skins producing light bodied wines with predominant strawberry flavours.
Jampal – A white variety from Southern Portugal producing wines with predominant citrus characters and tropical fruit undertones.
Katsano – An extremely rare white variety grown in Greece and producing wine with sweet lemon blossom and honey aromas.
Lambrusco – A brightly coloured red grape from Italy used to make sparkling red wines. Lambrusco is more accurately seen as a collective term for over 60 distinct Lambrusco varieties.
Merlot – A red variety originally from France, known more for its ability to impart certain textures rather than flavours to a wine. Merlots are often described as smooth, rounded and easy drinking. Nothing beats our Pssst 'n' Broke '17 Merlot for easy drinking.
Nero d'Alvola – A red grape originally from Sicily, however, there are now over 55 vineyards in Australia. It's particularly suited to dry, arid growing conditions, making it very relevant as our industry adapts to climate change. Our Cape Series '20 Rose is made of a blend of this and Merlot.
Ortega – A white grape originally from Italy, similar to Muscat with its overt floral scents.
Petit Verdot – Translates to 'little green one' in its French home because it can struggle to ripen. However, that makes it perfect for Australia's warmer wine regions. Whilst once considered a blending grape many Australian wineries are beginning to champion it in its own right. Try Gartelmann's. They are not far from our cellar door.
Quagliano – An Italian red variety often used in low alcohol still and sparkling wines.
Roussanne – A white variety, originally from France, and often displaying aromas of herbal tea florals and poached pears, with beautiful texture and complexity. I think Tahbilk's was the first I ever tasted. Locally, try Meerea Park's.
Sangiovese – A red Italian varietal which can be found in styles ranging from light and crunchy to dark bold and tannic. There a quite a few from the Hunter Valley you can try. David Hooke's is very good.
Tempranillo – A Spanish red variety responsible for many medium bodied, food friendly wines. Again, there are quite a few you can try in the Hunter Valley.
Uva di Troia – A low yielding, Italian, red grape used on it's own or blended.
Verdelho – A white Portugese grape, well known in Australia for producing extremely drinkable wines with fresh tropical fruit characters. Perfect with spicy Asian cuisine or kicking back by the pool. Our Stomp Verdelho has classic flavours whilst, for something different, try our Sparkling Verdelho.
Wurzer – A little known white German grape variety that is a cross of Gerwurtztraminer and Muller-Thurgau.
Xnisteri – A white grape variety from Cypress.
Y – ???? I need your help here. Anyone got any suggestions?
Zinfandel – A dark skinned red grape with controversy as to it's origins as it's the same as the ancient Italian variety Primitivo.
I'm sure you can come up with plenty more. Let me know how you go and have fun trying the wines from all these grapes.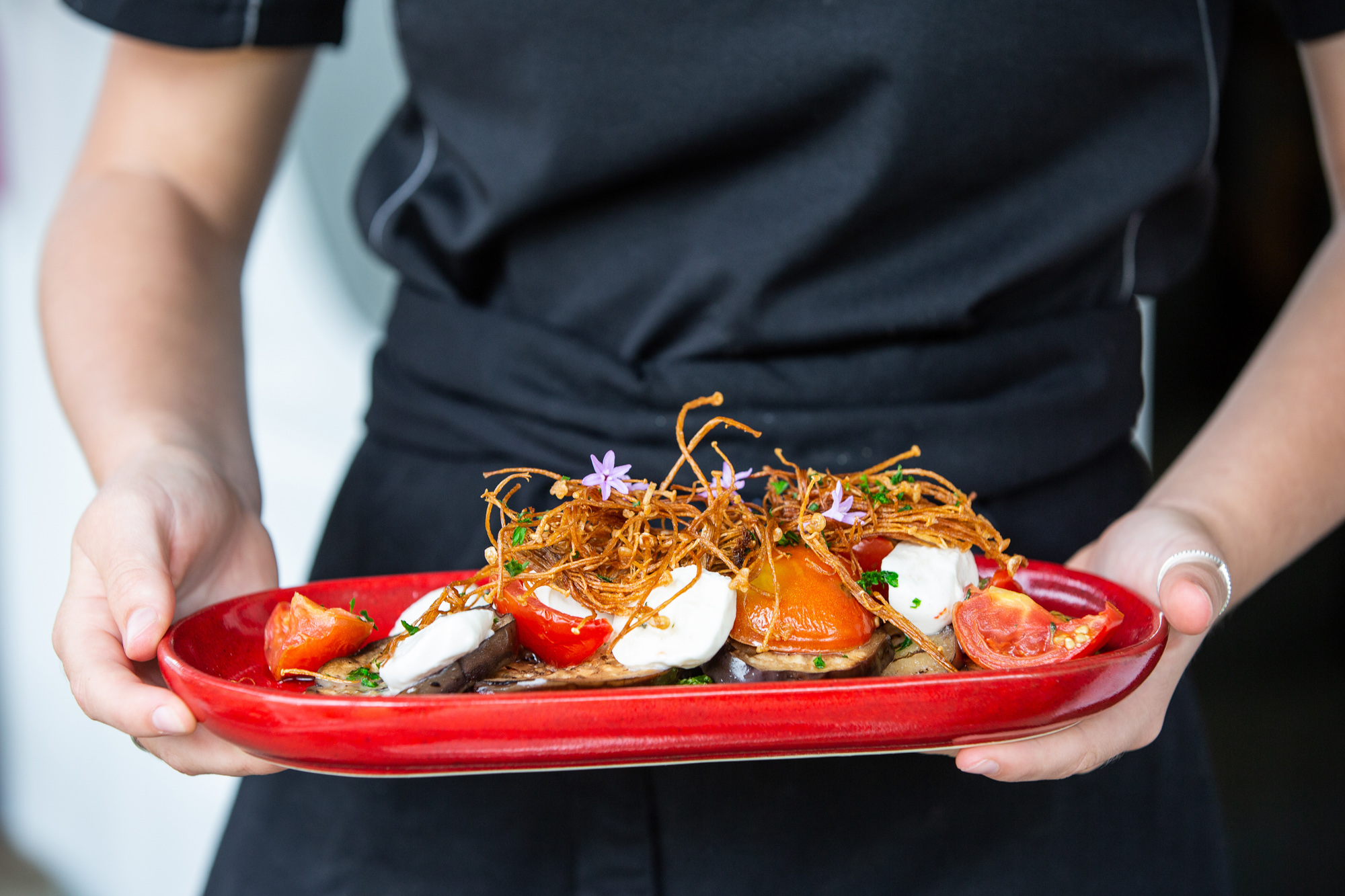 Run out of ideas for dinner? Something to celebrate but nowhere to go? Nothing in the cupboard to cook?
We've joined forces with The Deck Cafe & Sabor Dessert Bar and have a 5 course degustation meal, with matching wines, ready to be delivered to your door, this Saturday 2nd May!

You just need to chill the wine and follow Matt live on Facebook to learn how to finish and plate your dishes.

Believe me, you and your family will be impressed by this special meal.

Deliveries to Sydney, Central Coast, Port Stephens, Newcastle, Maitland and Singleton.

Don't live in one of these areas? I bet you know somebody who does, and you'll be their new best friend when you let them know about this amazing opportunity.

---
Degustation to your Door, Saturday 2nd May, 2020
5 course Degustation for 2 persons.
Only $65 per person (min. 2 people, food only)
Stomp Wines Degustation 6 pack $110 (RRP$152)

---
Menu
1st Course
Baked figs with macadamia nut crust, blue cheese and sage cream sauce
Wine match - Stomp Sparkling Verdelho
2nd Course
Tasmanian Salmon, squid ink arancini with asparagus sauce and tomato and caper tapenade
Wine match - Stomp 2018 Fiano or Stomp 2018 Chardonnay
3rd Course
Maple glazed pork belly on French toast
Wine match - Pssst 'n' Broke 2017 Merlot
4th Course
Preserved lemon and rosemary lamb rump with soft polenta, caponata and balsamic glaze
Wine match - Pssst 'n' Broke 2018 Shiraz
5th Course
Sabor Dessert Bar
Tasting Plate -
Crunchy chocolate slice
Salted caramel mousse with sticky date pudding
Dark & white salted caramel Portuguese mousse
Chocolate & raspberry dome tart, Black forest scheibe
Wine match - Stomp Wines Moscato

---
ALL ORDERS, INCLUDING WINE, MUST BE PLACED WITH THE DECK CAFE BEFORE 2PM THURSDAY 30TH APRIL
PH (02) 4930 9007
BOOK NOW TO AVOID DISAPPOINTMENT! WILL SELL OUT VERY QUICKLY.

MAKE SURE YOU LET THEM KNOW YOU WANT THE WINE PACK AND MEALS.

FOR MORE INFORMATION PLEASE GO TO THE DECK CAFE WEBSITE.